GRAZHDA PERFORMERS
[BACK]
---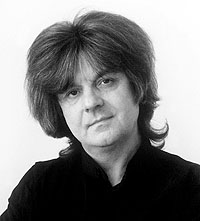 Volodymyr Vynnytsky
Concert pianist Volodymyr Vynnytsky is a laureate of the Marguerite Long-Jacques Thibaud International Piano Competition (Paris, 1983).
Born in Lviv, where he began his music studies, he is a graduate of the Moscow Conservatory and former member of the piano faculty at the Kyiv Conservatory.
As an international laureate he went on to perform as soloist with the leading orchestras of France, Poland and Ukraine.
Since coming to the United States in 1991, his appearances have included recitals in Carnegie, Weill Recital, Merkin, and Steinway halls in New York, the Phillips Gallery in Washington, as well as the Great Hall at the Moscow Conservatory, Theatre des Champs-Elysees, and St.John's Square in London.
As a chamber musician he as performed with such noted ensembles as the Leontovych, Lysenko (Ukraine), St. Petersburg (Russia) and the Zapolski (Denmark) string quartets in concerts in New York City, Connecticut's Music Mountain as well as in Copenhagen and Malmo, Sweden.
Mr. Vynnytsky is a former visiting member of the piano faculty at SUNY and the University of Connecticut.
Mr. Vynnytsky is music director of Music and Art Center of Greene County and served as MACGC artistic advisor and resident pianist from 1996- 2002.
---
---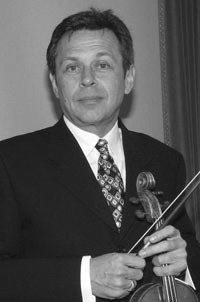 Atis Bankas
Violinist extraordinaire, Atis Bankas is the founder and Artistic Director of Music Niagara. In addition to his responsibilities as Artistic Director of Music Niagara and first violinist of the Gould String Quartet, the ensemble-in-residence at Music Niagara, Atis Bankas shares his musical talents by teaching a large violin studio at the Glenn Gould School of the Royal Conservatory of Music in Toronto, as a first violinist with the Toronto Symphony Orchestra since 1982, and as Director of Music at the Mount Carmel Spiritual Centre in Niagara Falls, Ontario. Recently, in recognition of his musical contributions to the community, Atis Bankas was inducted into the International Knightly Order of St. George. First-prize winner of the International Violin Competition in Tallin, Estonia, Atis Bankas has performed as a soloist in the former Soviet Union, Europe, the United States, and Canada, and with orchestras under the direction of Nejme Jarvi, Iona Brown, and Andrew Davis, among many others. Mr. Bankas was Assistant Concertmaster of the Lithuanian Philharmonic Orchestra prior to immigrating to Canada. Mr. Bankas is an avid chamber musician, having performed in the New World Trio, the Krieghoff String Quartet, the Toronto Piano Trio, and Trio Rachmaninoff. His solo and chamber music appearances have been featured on CJRT, CFMX, CBC, and NPR radio networks, as well as on television in Canada and the United States. Mr. Bankas' performances have received high critical acclaim. Mr. Bankas was also the founder and Artistic Director of the Muskoka Lakes Music Festival and the Windermere Music Festival. He has participated in many summer festivals including the Bowdoin Summer Music Festival, the Weathersfield Music Festival, Shandele Music Festival, and the Silver Bay Summer Music Festival. Mr. Bankas studied at the School of the Arts for Gifted Children in Kaunas, Lithuania, and the Lithuanian State Conservatory, where he graduated summa cum laude with a Masters degree in solo violin performance, chamber music, pedagogy, and orchestral performance. Mr. Bankas continued his post-graduate work in violin performance at the Moscow Tchaikovsky Conservatory where he studied in David Oistrakh's violin department. His principal teachers were Victor Radovich and Semyon Snitkovsky, both students of David Oistrakh. Mr. Bankas is highly regarded as a teacher of violin performance. In addition to the the Royal Conservatory of Music in Toronto, where he has taught since 1982, Mr. Bankas has served on faculties at the University of Toronto, Eastman School of Music in Rochester, New York, the Peabody Conservatory at Johns Hopkins University in Baltimore, Lawrence University in Appleton, Wisconsin, and the Moscow Gnessin Pedagogical Institute in Moscow. Mr. Bankas has adjudicated and offered master classes in Japan, Europe, the United States and Canada. Many of Mr. Bankas' students have been top prize winners of international and national competitions, such as the Paganini International Violin Competition, Niagara International Music Competition, the Toronto Symphony and Montreal Symphony competitions, Edward Johnson Music Competition, Kiwanis Festivals, and the Canadian Music Competitions. As well, they have gone on to study at prestigious institutions such as Juilliard, the Cleveland Institute, Peabody, the Royal Northern College of Music and have obtained positions with Canada's major symphony orchestras including the Toronto Symphony and the Vancouver Symphony.
Website: www.musicniagara.org
---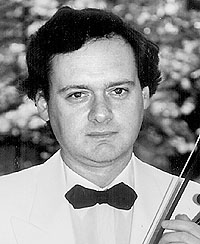 Alexandre Brussilovsky
Born in Ukraine, Alexandre Brussilovsky completed his education and advanced studies at the Moscow Conservatory. He is recipient of the Grand Prix and the Albert Roussel Special Prize at the Jacques Thibaud Competition (Paris, 1975). In 1985, after having been prohibited from performing abroad for eight years, Mr. Brussilovsky was able to leave the USSR and establish his residency in France, where he rebuilt his career.
An international soloist, referred to by Lord Yehudi Menuhin as "a most admired colleague and an excellent musician and violinist," he has played with such renowned artists as Mr. Menuhin, Neeme Jarvi, Emmanuel Krivine, Misha Maisky, Gary Hoffman, Eduard Brunner, Kun-Woo Paik, Pierre-Laurent Aimard, Patrick Gallois, Zhu Xiao-Mei, Nathaniel Rosen, Francoise Pollet, Natalia Gutman, and Boris Berezovsky.
Mr. Brussilovsky is founder and artistic director of the ensemble Ricercata de Paris, the international music academy Masters de Pontlevoy and the chamber music festivals Les MusiCimes (Courcheval, France) and Pont Alexandre III French Music Festival (Moscow).
---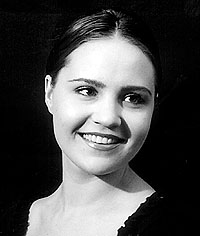 Stefania Dovhan
The Ukrainian-American soprano Stefania Dovhan was born in Kyiv, Ukraine. At the age of five, Dovhan began taking piano lessons, and sang in the Youth Choir at the Kyiv State Conservatory. She began her formal vocal training in the USA at the Baltimore School for the Arts with Joice Hubbard. Miss Dovhan holds degrees from the University of Maryland College Park (Martha Randall — vocal coach) and the Augsburg Academy of Music in Germany (Prof. Dr. Jan Hammar — vocal coach).
Stefania Dovhan is a recipient of numerous Performing Arts Scholarships and awards: the winner of the local and regional National Association of Teachers of Singing competitions; the Gold Medalist in the year 2000 Rosa Ponselle "Young Classical Singers" competition; third prize winner in the International Vocal Competition for Operatic Artists "Puldin 2002" in Bulgaria. In the summer 2002 Miss Dovhan participated in the University of Miami in Salzburg Program where she won the Leopoldskron Competition. During the 2004/2005 season Dovhan was a member of the International Opera Studio in Nuremberg and since 2005 she has been engaged at the Theater Hagen, Germany, where she is critically acclaimed for such roles as Gilda in Verdi's "Rigoletto," Pamina in Mozart's "Die Zauberflöte," Nanetta in Verdi's "Falstaff," Olympia in Offenbach's "Les Contes d'Hoffmann," Adina in Donizetti's "L'Elisir d'Amore," Cleopatra in Handel's "Giulio Cesare" and others. In 2007 Stefania Dovhan won the first prize in the Emmerich Smola Competition — one of the highest prizes for young singers in Europe. In 2006 she was the finalist of both the Hans Gabor Belvedere International Singing Competition in Vienna, Austria and the Alexander Girardi International Singing Competition in Coburg (Germany).
In July of 2007 Stefania Dovhan was the finalist of the Placido Domingo Operalia Competition in Paris. Critics are raving about her North American debut in the titel role of Gustav Charpentier's "Louise" at the Spoleto Festival USA 2009. Miss Dovhan is looking forward to her New York operatic debut as Donna Anna in the New York City Opera's new production of Mozart's "Don Giovanni."
Miss Dovhan is an avid recitalist and has given solo recitals in New York, Chicago, Philadelphia, Washington DC, Salzburg (Austria), Augsburg (Germany), and Kyiv (Ukraine).
Website: www.stefaniadovhan.com
---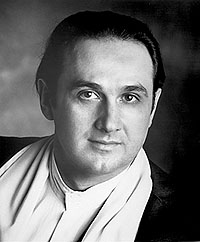 Volodymyr Hryshko
Ukrainian tenor Volodymyr Hryshko (Vladimir Grishko) is Grand Prize laureate at the Francisco Vinas International Singing Competition (Barcelona, 1989), where he was accorded the Plàcido Domingo "Best Tenor" title, and at the International Vocalists Competition (Toulouse, 1990).
A star of the Kyiv Opera, Mr. Hryshko has been engaged as leading tenor in Europe and North America. His European engagements include several seasons with the Kirov Opera under the direction of Valery Gergiev, as well as engagements with L'Opéra de Paris-Bastille, Salzburger Landestheater, Prague State Opera, Czech National Theater, Dresden Opera, Arena di Verona, Opera-Frankfurt, and Bregenz Festival, among others.
Mr. Hryshko made his U.S. debut in 1990 as Alfredo in "La Traviata" in Baton Rouge, La. His American engagements include leading roles with the Metropolitan Opera, New York City Opera, Washington Opera, and Houston Grand Opera, among others.
Among recently sung roles are Radames in Aida with the Salzburger Landestheater; Lensky in Eugene Onegin with Kyiv Opera; as well as Prince Anatol Kuragin and Gerard in War and Peace, Pinkerton in Madama Butterfly and Andrei Khovansky in Khovanshchina -- with The Metropolitan Opera; and Vladimir Igorevich in Prince Igor and Macduff in Macbeth with New York City Opera.
In recognition of his artistic achievements and the representation of Ukraine in the field of music world-wide, Mr. Hryshko was accorded the Taras Shevchenko National Award (2001) and the title of Knight of the Order of Prince Volodymyr the Great.
---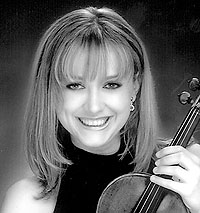 Solomiya Ivakhiv
Violinist Solomiya Ivakhiv is a graduate, with highest honors, of the Curtis Institute (2003) where she studied with Joseph Silverstein and Rafael Durian. While at Curtis she was a member and later, concertmaster of the Curtis Symphony Orchestra.
Ms. Ivakhiv is a laureate of the Prokofiev International Competition and recipient of the National Ukrainian Presidential Award in Classical Music.
As soloist and chamber musician, she has participated in such well-known music festivals as Tanglewood and Steamboat in the United States, as well as Prussia Cove in England, Holland Music Festival (Bergen), Henryk Wieniawsky in Poland, and the Normandy Chamber Music Festival in France.
A native of Lviv, she is a frequent guest soloist with the Lviv Philharmonic Symphony Orchestra and the Lviv Chamber Orchestra.
---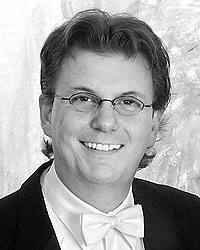 Randolph Kelly
Guest artist Randolph Kelly is principal violist of the Pittsburgh Symphony Orchestra, where, since 1976, he has played under the direction of Andre Previn, Lorin Maazel and Mariss Jansons. Mr. Previn once wrote that Mr. Kelly "…transformed his section" into what he considered to be "the best viola section of any orchestra in America."
A highlight of Mr. Kelly's tenure with the Pittsburgh Symphony was performing the world premiere of the Concerto for Viola and Orchestra (2002), written for him by Samuel Adler. Mr. Kelly made his European solo debut playing the Walton Concerto with the National Orchestra of France under the direction of Maestro Maazel.
In addition to his orchestral career, Mr. Kelly is a celebrated soloist and chamber musician. He has recorded and toured extensively with the Los Angeles Piano Quartet. Additionally, he has performed as a guest artist at chamber music festivals in Japan, Australia, Europe, Taiwan and Russia.
Mr. Kelly is a graduate of the Curtis Institute.
---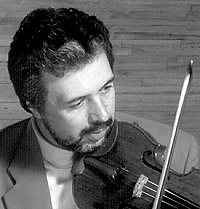 Yuri Kharenko
Concert violinist Yuri Kharenko is a graduate of the Kyiv Conservatory, where he taught violin before emigrating to the United States in 1991.
Mr. Kharenko is a regular participant at such music festivals as "Mostly Mozart," Newport, Texas Music, Music Mountain, as well as Moscow Autumn, Kyiv, Victoria (Canada), and São Paolo (Brazil).
He is a former member of the Leontovych String Quartet (1983-2000) and a Merited Artist of Ukraine. In 2001, Mr. Kharenko performed the world premiere of Violin Concerto No. 3, written for him by Ukrainian composer Myroslav Skoryk, in a performance with the National Symphony Orchestra of Ukraine at the Kyiv International Music Festival.
Mr. Kharenko teaches at the Hartford Conservatory in Connecticut.
---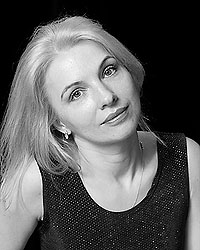 Natalia Khoma
Acclaimed cellist Natalia Khoma has distinguished herself as a recitalist and soloist with leading ensembles and orchestras around the world since winning top prizes at the Budapest Pablo Casals Competition (1985), Markneukirchen (1987) and the Tchaikovsky (Moscow, 1990) international competitions, as well as first prize at the Belgrade International Cello Competition (1990).
Ms. Khoma studied in Lviv, Ukraine, and is a graduate of the Moscow Conservatory. She was a member of the cello faculty at the school of music at Michigan State University, and is currently on the faculty of College of Charleston.
Ms. Khoma has recorded for NHK-TV (Japan) and made CD recordings for Cambria, Blue Griffin, IMP and Ongaku labels, as well as for Ukrainian, Russian, German, Spanish, Yugoslavian, Israeli, and Hungarian Radio and Television as well as WNYC-FM in New York and WGHB-FM in Boston.
---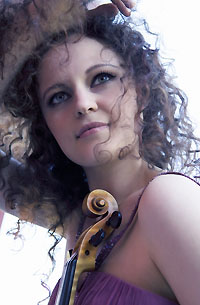 Irena Krechkovsky
Violinist Iryna Krechkovsky began her music studies in Ukraine with her father, Orest Krechkovsky. Winner of numerous competitions, she was a laureate of Kocian International Violin Competition in Czech Republic at the age of eleven. Iryna later moved to Canada where she was a student at the Young Artists Performance Academy of the Royal Conservatory of Music in Toronto. Other competitions include top prize at the national finals of Canadian Music Competition, winner of the Royal Conservatory of Music Concerto competition, and most recently, winner of the Cleveland Institute of Music Concerto competition. Iryna completed her Bachelor's and Master's Degrees in Violin Performance at the Cleveland Institute of Music as a student of David and Linda Cerone, where she was a recipient of Dr. Jerome Gross Prize in Violin. While completing her studies in Cleveland, Iryna was a teaching assistant to Linda Cerone as well as an ensemble assistant to the Preparatory Department of the Institute.
Iryna has spend her summers participating in various music festivals including ENCORE School for Strings, National Orchestral Institute, Schlern International Festival in Italy, ChamberArtsFest in Moulin d'Ande, France (as a member of chamber music faculty), as well as artist-in-residence of Young Composer's Program at CIM.
---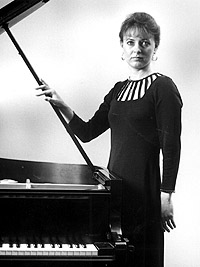 Laryssa Krupa
Laryssa Krupa is a graduate of the Peabody Conservatory of Johns Hopkins University, where she studied with Fernando Laires and Leon Fleisher. She made her New York debut in 1983 at Carnegie Recital Hall. Her professional experience includes performances with orchestras, as well as in solo recitals and in chamber ensembles in the North America and Europe.
Ms. Krupa frequently performs two-piano repertoire with her husband, concert pianist Alexander Slobodyanik, with whom she performed at the Australian International Chamber Music Festival, New Paltz (NY) Piano Summer, and Merkin Concert Hall in New York City.
Ms. Krupa was a featured performer with Mr. Slobodyanik at the Grazhda in 2001, and with violinist Adrian Bryttan in a concert in 2003.
Ms. Krupa is on the music faculty of the County College of Morris in Randolph, N.J.
---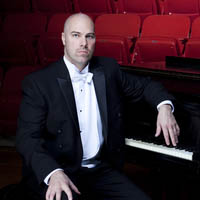 Victor Markiw
Victor Markiw holds a MFA degree from SUNY Purchase, where he studied piano with Vladimir Feltsman and Volodymyr Vynnytsky, and chamber music with Paul Ostrovsky. Currently, he is pursuing a doctorate in piano at the University of Connecticut, studying with Neal Larrabee. He has received a scholarship to perform Myroslav Skoryk's piano works in Ukraine.
Mr. Markiw has performed with area orchestras throughout the New York Metropolitan area and has given recitals in Spain and Brazil. He is an adjunct professor of music at the University of New Haven and serves on the faculty of the University of Connecticut.
---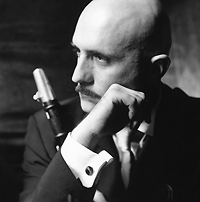 Andriy Milavsky
Andriy Milavsky, clarinetist and master flutist, holds a Master's Degree in music from the Kyiv State Conservatory in Ukraine. An accomplished clarinetist, he has toured Western and Eastern Europe with State Orchestras such as the Kyiv, Moscow, Tartu, and Lviv, performing classical and folk repertoires at major concert halls. Since his arrival in the United States in 1991, A. Milavsky has appeared with the Kyiv Symphony Orchestra, the Amato and Riverside Operas; worked on experimental projects produced Off Broadway; and taught music privately and institutionally. His teaching experience abroad, as well as Stateside, has set a precedent among educators in music. Currently, A. Milavsky performs regularly as a B-flat, A, E-flat, and bass clarinetist with opera and symphony orchestras, woodwind and string quartets, and clarinet duets.
In the world folk genre, A Milavsky, called "The Charlie Parker of Ukraine" (Next Big Thing/WNYC-Radio), is an Eastern European folk musician par excellence. His experience in Carpathian folk music spans 20 years as a performer, soloist, and orchestra leader/ arranger with the top traditional state collectives in Ukraine. And his Ukrainian folk ensemble Cheres, based in Manhattan, is renowned as the "best purveyor of authentic Ukrainian folk music in the United States" (Archive of Folk Culture/Library of Congress). The group has played sold-out engagements in New York City (Town Hall, Joe's Pub) and major music festivals on the East Coast (Lincoln Center Out of Doors, Smithsonian Festival in Washington, D.C.).
Website: www.cheres.net
---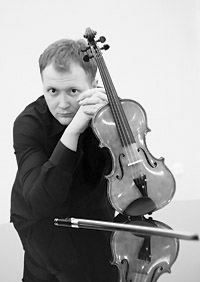 Nazar Pylatyuk
Nazar Pylatyuk, violinist.
---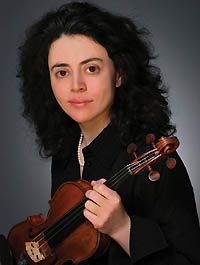 Anna Rabinova
Violinist Anna Rabinova performs nationally and internationally as a soloist, chamber and orchestral musician, and recording artist. She joined the New York Philharmonic in 1994, two years after arriving in the United States from her native Russia; in the 2008–09 season she was a soloist with the Orchestra in Bach's Brandenburg Concerto No. 5, led by Lorin Maazel.
Ms. Rabinova has toured Germany, Italy, the former Yugoslavia, Hungary, and Bulgaria, performing concertos with the Moscow State Symphony Orchestra and numerous other European orchestras. They include the Halle Philharmonic, Schwerin Philharmonic, Moscow Radio Orchestra (Vladimir Fedoseev conducting), Moscow Chamber Orchestra, Eisenach Symphony, Russian State Symphony, and Berlin Symphony (Lior Shambadal conducting). In the United States, she has made solo appearances with the Orchestra of St. Luke's, American Symphony Orchestra (Leon Botstein conducting), and Memphis Symphony, among others, and has premiered works by John Corigliano and Alfred Schnittke.
As a recitalist, Ms. Rabinova has appeared in numerous halls, including the Shauspielhaus in Berlin, Tchaikovsky Philharmonie Hall in Moscow, and Moscow Conservatory Great Hall, as well as in venues in Rome, Leipzig, and Belgrade. In the U.S. she has performed at the Phillips Gallery (Washington, D.C.), Weill Recital Hall at Carnegie Hall, Alice Tully Hall, Merkin Concert Hall, Bargemusic, and on the Rockefeller University concert series. In April 2004 she served as concertmaster of the Lancaster (Pennsylvania) Symphony Orchestra. Her festival performances have included appearances at the Schleswig Holstein, Berlin Chamber Music, and Long Island Mozart festivals, the Music Festival of the Hamptons, and at Tanglewood and Caramoor.
Ms. Rabinova's recordings include works by Schuman (for Germany's Auris-Subtilis) and David Winkler's Violin Concerto (Naxos); in 1998 she recorded sonatas by Brahms and Schubert for an NHK-TV (Japan) chamber series, which was broadcast worldwide and produced by Paul Smaczny. She has been interviewed and has performed on WLIW-TV in New York, as well as on German and Russian radio.
Anna Rabinova was born in Moscow and performed Tchaikovsky's Violin Concerto, Heinrich Wilhelm Ernst's Violin Concerto, and Paganini's Violin Concerto with the Moscow State Symphony at the age of 13, later studying at the Tchaikovsky Conservatory with Leonid Kogan and Igor Bezrodnyi. She was a first-prize winner at the 16th International Violin Competition in Belgrade, in addition to winning the Bach International Competition in Leipzig, Germany, and the 1993 Concerto Competition at The Juilliard School. She has taught at the Gnessin Institute in Moscow, and is currently on the faculty of the Manhattan School of Music, in addition to giving master classes in the U.S. and abroad.
---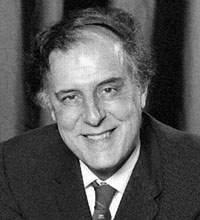 Roman Rudnytsky
Roman Rudnytsky is an internationally active concert pianist whose frequent performances, held under the auspices of the U.S. Embassy's public diplomacy program, take him all over the world.
In addition to performances in capital cities and important musical centers, Mr. Rudnytsky, who as of this year, has played in nearly 80 countries of the world, often performs in places away from the musical mainstream, bringing the pleasure of classical music to audiences which seldom experience this type of music in live performance.
In addition to his many recitals, Mr. Rudnytsky has also appeared as a soloist with many orchestras around the world. Between 1990 and 1993, he gave the British, Latin American and Australian premiere performances of the recently discovered Liszt Concerto No. 3 in E Flat.
Mr. Rudnytsky is a prizewinner in 10 piano competitions, including such prestigious ones as the International Leventritt Competition (New York) and International J.S. Bach Competition (Washington) and, in Italy, the F. Busoni and A. Casagrande international piano competitions.
Born in New York into a prominent Ukrainian musical family, Mr. Rudnytsky holds degrees from The Juilliard School and the Peabody Conservatory of Johns Hopkins University. He is, since 1972, a member of the piano faculty of the Dana School of Music of Youngstown State University in Ohio.
---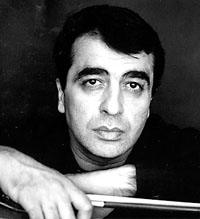 Vagram Saradjian
Internationally acclaimed cellist Vagram Saradjian is grand-prize laureate in the International Cello (Geneva) and Tchaikovsky competitions. Born in Yerevan, Armenia, into a family of distinguished musicians, he studied at the Moscow Conservatory under the tutelage of Mstislav Rostropovich.
Mr. Saradjian appeared as soloist at the invitation of Maestro Rostropovich at the latter's debut with the Kyiv Philharmonic, where he played Dvořák's Cello Concerto.
He has also performed with such renowned conductors-composers as Kondrashin, Khachaturian, Svetlanov, Temirkanov and Maxim Shostakovich. As chamber musician he has performed with, among others, Viktor Tretyakov, Evgeny Kissin, and Maxim Vengerov.
Mr. Saradjian is a member of the string faculty at the University of Houston Moores School of Music and music director of the Schlern International Music Festival held in Italy under the auspices of the UNESCO Italian National Commission. Previously, he served on the music faculty of the Oberlin Conservatory, Connecticut College, Aaron Copland School of Music (CUNY), Purchase Conservatory (SUNY), as well as the Moscow Conservatory.
Mr. Saradjian's extensive recordings include the cello concertos of Schumann, Saint-Saëns, Dvořák, Honegger, and Karen Khachaturian as well as Tchaikovsky's Rococo Variations.
---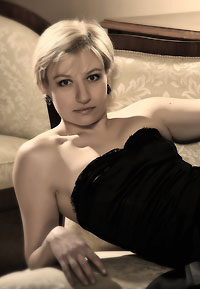 Sofia Soloviy
---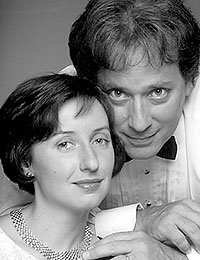 Solomiya Soroka
and
Arthur Greene
Born in Lviv, Ukraine, Solomiya Soroka is a summa cum laude graduate of the Kyiv Conservatory (1995) and holds a D.M.A. degree from the Eastman School of Music (2002). Top prize laureate in the Prokofiev, Lysenko, and Zolota Osin' international violin competitions, she made her Australian debut in 1994 and her American debut in 1997. Ms. Soroka appeared as chamber musician at the Australian Festival of Chamber Music and the New Zealand International Chamber Music Festival, as well as soloist in recitals in Europe and the United States. Her recitals in Washington, D.C. were programmed as part of the Smithsonian Institute Performing Arts Series. Ms. Soroka studied with Hersh Heifetz, Olga Parchomenko, Bohodar Kotorovych and Charles Castleman. She has collaborated with such well-known artists as Boris Berman, Lamar Crowson, Mr. Castleman, Dong-Suk Kang, Ronald Leonard, and Torleif Thedeen.
Referred to in critical reviews as a profound and masterful pianist, Arthur Greene is gold- medal laureate in the William Kapell and Gina Bachauer international piano competitions, and a top laureate at the Busoni International Competition. He has appeared as soloist with leading orchestras world-wide and has played solo recitals in the most prestigious halls in the United States, Europe and Asia. His extensive concertizing has included 12 tours of Japan and solo recitals in concert houses in Shanghai and Beijing. He has also performed at the Chopin Festival at Marianske Lazne in Poland and has appeared as soloist with the Czech Symphony and the National Symphony of Ukraine.
Mr. Greene has presented the complete solo piano works of Johannes Brahms in a series of six programs at the Isabella Steward Gardner Museum in Boston. His recordings include the complete Études and the cycle of ten piano Sonatas of Alexander Scriabin for Supraphon.
Mr. Greene is chair of the piano department of the University of Michigan School of Music in Ann Arbor, with degrees from Yale, The Juilliard School, and SUNY at Stony Brook.
---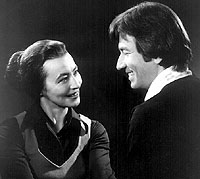 Luba and Ireneus Zuk
Luba and Ireneus Zuk, who perform both as soloists and as a piano duo, have appeared in concerts to critical acclaim in North America, Europe, and the Far East. They have also performed and recorded for CBC Radio, Austrian National Radio, and Polish Radio.
The Zuk Duo is known for its consistent promotion of music by contemporary Canadian and Ukrainian composers. They have premiered many of their works, and several prominent composers have written especially for them. The duo's recent tours in Ukraine have included several return engagements at the International Music Festival in Kyiv. In 1999, in recognition of their significant artistic achievement, the Zuk Duo was awarded a medal and the title "Merited Artist of Ukraine."
Luba Zuk is professor in the faculty of music at McGill University in Montreal. Ireneus Zuk is professor and former director of the School of Music at Queen's University in Kingston, Ontario. Luba Zuk and her brother, Ireneus, are also frequent jury members in Canada and at international music competitions.
Born in western Ukraine, Luba and Ireneus Zuk are graduates of McGill University and the Conservatoire de Musique de Quebec. Ireneus Zuk is also a graduate of the Royal College of Music in London and the Juilliard School in New York, and holds a doctorate from the Peabody Conservatory of Johns Hopkins University.
---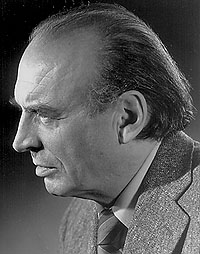 Radoslav Zuk
Radoslav Zuk, architect and professor of architecture at McGill University in Montreal, gained international recognition for his design, among other projects, of Ukrainian churches in North America.
The exhibition of architectural drawings and photographs "Radoslav Zuk — Tradition and the Present: Ukrainian Churches in North America and Museum Projects in Ukraine," features nine Ukrainian churches which were designed by Radoslav Zuk, as well as his projects for the expansion of the National Museum of Ukrainian Art in Kyiv.
Since its opening at the prestigious Architekturgalerie in Munich, Germany, in 1996, the exhibition of his work has been shown in Great Britain, North America, Europe and the Middle East.
Radoslav Zuk has been a guest lecturer and guest review critic at numerous universities in North America and Europe. He also has served on juries of architectural competitions at leading universities, among them Harvard, MIT, Rensselaer Polytechnic Institute, Rhode Island School of Design and Yale, and has published articles on design theory, cultural aspects of architecture, and on the relationship between architecture and other arts.
Radoslav Zuk is a graduate of McGill University and MIT. He is a recipient of a Ukrainian Canadian Congress Centennial Medal and a co-recipient of a Royal Architectural Institute of Canada Governor General's Medal for Architecture, the highest architectural honor in Canada.
---